Last year, as the world was hit by a global pandemic last year, lifestyles and priorities changed. Consumers are increasingly expecting their favorite brands to prioritize and publicize their ESG (Environmental, Social, and Corporate Governance) issues. While brands face pressure to pivot to more sustainable practices, they also face the challenge of finding ways to source sustainable materials for their products. To solve this challenge, I created Sustainable Partners, a B2B website and intelligent business network that uses personalization and matching technology to facilitate connections, provide data, and drive solutions for a more sustainable fashion industry. Sustainable Partners turns sustainability into an opportunity– rewarding more sustainable and transparent businesses with higher search rankings.

Duration: 4 weeks

Methods: Secondary Research, Competitive Research, Subject Matter Expert Interviews, User Personas, Venn Diagram, POV/HMW, Sitemap, Task Flows, Wireframes, Prototyping, Feedback Grid

Tools: Figma



Today, the fashion industry accounts for about 10% of global greenhouse gas emissions. To reach the 1.5 degrees C° target laid out in the 2015 Paris Climate Agreement and the 2018 Intergovernmental Panel on Climate Change Report, the fashion industry must urgently cut emissions by 50%.

Apparel executives increasingly believe that sustainable sourcing at scale is a must-have for their companies and for the industry. The effort to deliver on the promise of sustainable sourcing at scale will have to extend far beyond individual companies. Apparel brands and retailers will need to build true collaboration with suppliers, encompassing real co-investment and long-term planning along with robust measurement and management of performance. They will need to drive accountability by measuring and incentivizing sustainable behavior across their end-to-end supply chain.


Secondary Research

With the goal of understanding what sustainability leaders in the fashion industry believe are the priority action areas to minimize the industry's environmental impact, I conducted secondary research. In a report published by McKinsey in 2020, they stated that in order to reach the global emissions targets set out by the United Nations, action from the supply chain would have the most potential to deliver reduction in emissions. Manufactuers and fiber producers could deliver 60% of the accelerated abatement.


Priority Action Areas to meet 2015 Paris Climate Agreement:
In supplier relationships, sustainability will play an increasingly important role in how apparel companies select their suppliers.
3 out of 5
survey respondents said sustainability would be a very important factor in their supplier ratings by 2025– up from only
1 in 5
who say it is today.
Subject Matter Expertise (SME) Interviews
To understand the pain points for brands and suppliers in minimizing their environmental impact, I conducted 3 SME interviews. In these interviews, I also wanted to understand what the current processes for brands and manufactuers are for searching and vetting for sustainable partners.
Participants included:
Michelle Mendlewicz, Sustainability Reporting Manager at Nike (Large Brand)

Helen de Kluiver, CEO of CAES (Small Brand)

Libby Sommers, VP of Sales & Partnership at Bolt Threads (Supplier)

Through my SME interviews, I discovered that
finding
and
connecting
with
sustainable partners
was a
primary pain point
for smaller brands like CAES, but not for larger brands like Nike as they typically already have established, long-term relationships with their suppliers. However, I was able to derive insights from larger, successful brands that can apply to help smaller to mid-size brands.
Key Insights for Retail Supply Chain:

The strength of large brands is in their
diverse network of suppliers
which allows them to not be overly reliant on any one site and less vulnerable to unpredictable occurrences.
As brands with similar products often share the same supplier (i.e. Nike, Adidas, Under Armour, North Face),
sharing information transparently
can help others find and make connections.
One of the top priority for larger brands is to find ways to
learn
and
innovate
from, and even with, their
competitors
.
User Personas

Using the insight I gathered from my SME interviews, I focused on creating 2 user personas: a small to mid-size brand and a supplier in the fashion industry.
Venn Diagram: Brand + Supplier

I created a Venn Diagram to visualize the overlapping pain points and goals of both brands and suppliers to help me prioritize what is most important to address.

Redefining the Problem Statement
How might we help brands and suppliers find partners that fit their product and sustainability needs?

How might we help brands and suppliers find partners that they can grow and scale with?

How might we help brands and suppliers clearly articulate their sustainability story and strategy?

How might we help brands find suppliers with a small MOQ at a reasonable cost?

How might we help brands and suppliers find partners locally?
Key Performance Indicator (KPI)
In order to understand how I might quantify and measure Sustainable Partner's overall long-term performance, I identified the primary KPI.
Percentage of connections that become business partnerships
Quantity of messages sent
Task Flow

To address the high priority pain points of both artists and listeners, I created 2 task flows. This gave me a clear picture of the steps a user would need to take to get to their final goals and how to deliver these goals in the most intuitive way possible.


Sitemap

In order for users to succesfully complete the task flows, I created a sitemap to understand what screens needed to be created or re-designed.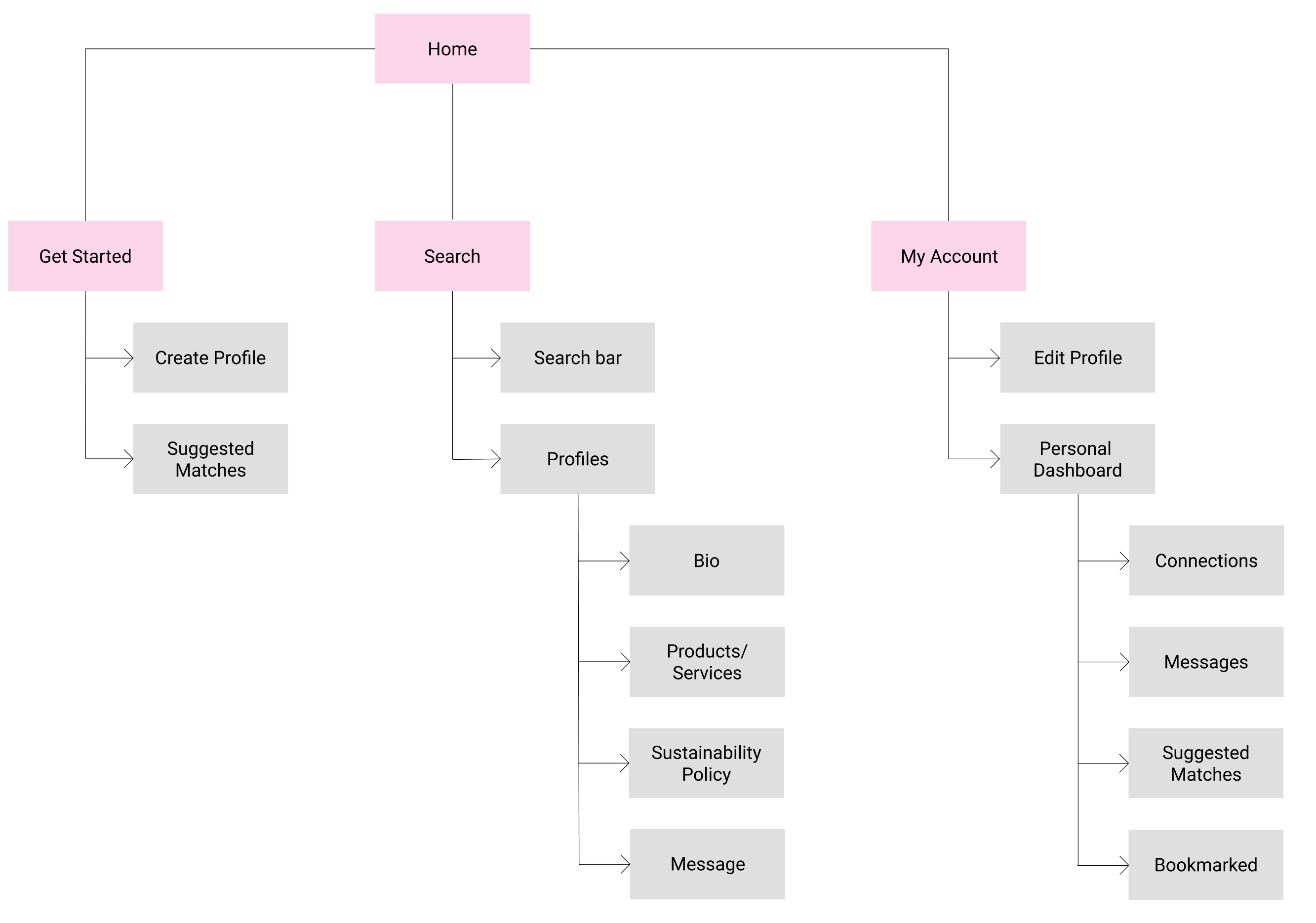 Mid-Fidelity Wireframes

Referencing my sitemap and task flows, I created mid-fidelity wireframes. I prioritized creating the following pages for Sustainable Partners: Home, Intake Form, Search, Profile, and Personal Dashboard.

Branding and UI Kit

Following Sustainable Partner's brand identity (empowering, optimistic, & professional), I crafted a logo, color palette, font pairing, buttons, and other stylistic elements to create a comprehensive UI kit. For the brand colors, I chose green to represent sustainability and pink to represent fashion.



UI Designs

By applying the visual design to my wireframes, I created responsive UI designs for the following pages: Home, Intake Form, Search, Profile, and Dashboard.

Prototype
In order to conduct usability testing, I created a desktop prototype using Figma.
Testing Objectives

Can users complete the 2 task flows without experiencing frustration?
Find and message Kelman Materials, confirm busines partnership with them
Create a profile to access personal dashboard, message Kelman Materials and confirm business partnership with them
Usability Testing

By conducting usability tests with
1 CEO of a mid-sized clothing brand, 1 Head of Partnerships of a manufacturer, and 2 sustainability experts
, I was able to refine what users found useful and change items that were confusing.
Results

To prioritize what needs to be fixed, I identified 4 categories in a feedback grid:
Things that worked

Things that were questioned

Things that need to be changed (2 or more users in agreement)

New ideas to consider (only 1 user in agreement)
Design Changes
Based off user feedback, I made the following iterations to create a newer, high-fidelity version of the app:
Clearly indicated what messages have and have not been read

Reworded "Search" to "Search Partners" to eliminate confusion

Provided ability to select and verify multiple memberships and certifications in the intake process

Made bullets that have been selected in the intake process more visible and clear
Final Product

After testing and iterations, my final product aligned with all the objectives I had set in place- it included the core features necessary for to
help brands and suppliers find partners that fit their product and sustainability needs
. After interacting with my final prototype, users commented that the need for a site like Sustainable Partners will become increasingly more valuable as brands and manufactuers alike realize that their business and sustainability goals can only be achieved with the right partners.
Click
here
to view the final prototype.